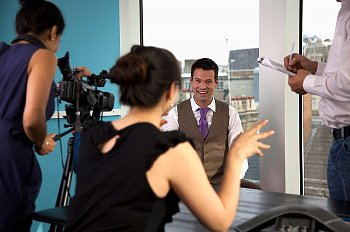 ValueVIDEO was created to facilitate engagement and interaction between companies and their investors through personal video interviews with key members of the management team.
One of the key components of social media implementation is transforming your brand into a "social conductor" which means trying to find ways to fulfill the informational needs of your audience.
ValueVIDEO

Overview

As companies seek more effective methods to reach investors and distinguish their brand, online video offers a powerful solution that is growing in popularity.

According to recent data from ComScore [1] the numbers for both videos watched and time spent watching them has skyrocketed in the past year.

Today's media savvy audience is more likely to give their increasingly limited attention to content which summarizes information and includes some visual element. They're also more likely to trust companies that are willing to engage with their online audience in a transparent and open setting.
"Online video viewing is more ubiquitous than ever. According to comScore, in the month of December 178 million people watched 33.2 billion videos, with the average viewer watching 187 videos per month in the U.S." [2]

Mashable.com
Build

Investor Engagement

Online videos facilitate a more personal interaction between companies and their investors. Providing your audience with a live or pre-recorded interview with your executive team allows you to showcase their knowledge and communication skills as well as build credibility. Being able to directly see and listen to the company's leadership builds a public perception of openness and transparency.
Improve

Message Reach

The information overload scenario facing online consumers of information means both their time and attention is increasingly limited. Therefore offering a video link versus a page of text to convey your message saves time and is much more likely to be viewed. Nothing delivers a quicker or easier way to view content than video.
Increase

Message Effectiveness

Relying on text bases messages limits the amount of information you will be able to convey to your audience. Video allows for incorporation of visual elements that can deliver a more detailed and comprehensive set of information to get your point across.

References
^ ComScore - 'U.S. Online Video Market Continues Ascent as Americans Watch 33 Billion Videos in December'