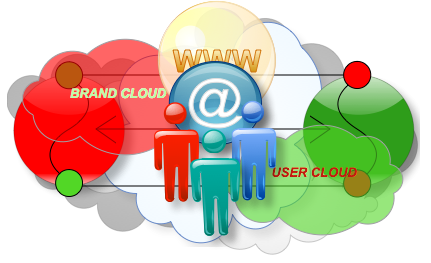 Digital Identity and Reputation Management consists of the ongoing monitoring and analysis of the online reputation for a brand or individual as represented by all media types across the Social Web.
Your reputation reflects how trustworthy your brand is. Managing your online reputation starts with a transparent Digital Identity that enables you to earn trust and build connections. Anonymity is no longer an option for those trying to create Social Capital in the networked world.
Overview -

Building Network Integrity For Your Brand
"As other users interact with an established online identity, it acquires a reputation, which enables them to decide whether the identity is worthy of trust." [1]

Wikipedia
The majority of brands online today lack an effective Digital Identity. Their Social Network presence is ad hoc or non existent - outsourced or silo specific rather than in-house, holistic and cross-functional. Their overall Social presence looks like a "front" or "Social Facade" being used for non-social behavior. This makes it less discoverable, less connected and less relevant.
Benefits -

Creating A Framework For Trusted Engagement

In order to build trust and attention with their audience brands must learn to move past this approach and start with a foundation of transparent, connected digital identities. The Digital Identity Management service provides the basic infrastructure and guidance to get you and your team started.
"Delivering functional and social expectations of the public on the one hand and managing to build a unique identity on the other hand creates trust and this trust builds the informal framework of a company. " [2]

KLEWES AND WRESCHNIOK
Transparent Digital Identities

Build Brand Trust

Investors and consumers are going to social networks such as LinkedIn, Google Profiles and Facebook to learn more about the members of an organization before doing business with them. Having a digital identities in place facilitates credibility and trust.
Networked Corporate Identities

Create A Positive Brand Impression

Maintaining a Digital Identity is a simple first step toward establishing transparency and trust for members of your organization but having those profiles aggregated under Corporate groups on LinkedIn and Facebook creates the impression of a professional and cohesive brand.
Connected Corporate Identities

Improve Insight into Investor Sentiment

The Digital Identity platform gives your team the necessary presence online to improve market insight and can help maintain shareholder value by monitoring online communities where opinions about the business are being formed and spread through the network.
Digital Identities

Facilitate Online Reputation Management

A connected network of Digital Identities within your organization enables more effective management of the brand's collective online reputation. It will also create more opportunities to listen and engage with investors and ultimately build an impression of accountability and trustworthiness .

References
^ Klewes, Joachim and Wreschniok, Robert (2010). Reputation Capital: Building and Maintaining Trust in the 21st Century. ISBN 978-3-642-01629-5